Biodiversity is a major reason why Jungle Safari in Nepal has an amazing scope in the tourism industry. In the world map, Nepal is actually very small. In fact, it covers just 0.1% of the global area. However, the fact that 3.2% and 1.1% of the world's known flora and fauna, respectively, are found in Nepal says a lot about its biodiversity. 
Nepal is home to several species of birds and animals. The climatic change also favors the existence of unique wildlife in several parts of Nepal. About 45% of Nepal's total area is covered with forest. Statistics say that there are over 850 species of birds and 185 species of mammals in Nepal.
There is a huge scope for Jungle safari as an adventurous activity for both domestic and foreign tourists. Especially if you are a nature-loving person, you may find a sense of fulfillment by walking the jungles of Nepal.
National Parks in Nepal and Wildlife Reserves
About 19.7% of the country's total land is covered by National Parks, Conservative Areas, and Wildlife Reserves.
National Parks – 9
Conservative Areas – 6 
Wildlife Reserves – 3
Hunting Reserves – 1
Visitors are able to see a variety of wildlife in the National Parks and Wildlife Reserves. These sanctuaries protect rare flora and fauna from poachers and smugglers. 
Chitwan National Park is where you will get to explore a proper Jungle Safari in Nepal. This National Park grants shelter to two of the rarest and most smuggled wildlife – One-horned Rhino and the Royal Bengal Tiger. 
A great opportunity for jungle adventure indeed!
Chances are, you could actually witness these majestic animals while on Chitwan National Park jungle safari. The most common safaris are Elephant ride safari and Jeep safari. It entirely depends on your time and interest. 
Although, one thing is guaranteed – the greenery of Sal forest with a variety of wildlife.
Wildlife Jungle Adventure in Nepal – Exotic Tourism Activity
In Nepal, one can easily get to view the thrill of Jungle adventure up close. With activities such as bird watching, jeep safari, and elephant ride, the National Park and Wildlife Reserves of Nepal are heaven for nature-lovers. 
What could be better than blending in nature and witnessing rare species of birds and animals? It could be an experience of a lifetime.
Chitwan National Park offers so lot more to visitors with great ecological diversity in the area including rare animal sightings. Moreover, the area covers an island in Narayani River which is home to 2 species of crocodiles and migratory birds. Our Chitwan Wildlife Safari package covers all the adventurous activities in Chitwan with guaranteed thrill and satisfaction.
Bardiya Jungle Safari is another popular and unspoiled sanctuary. The biggest National Park in Terai, Bardiya N.P. is arguably the better place for tiger viewing. Some say you have more chances of seeing a tiger at Bardiya than at Chitwan N.P. Similarly, sightings of several species of birds and wild elephants have enhanced the wildlife experience of this place.
That's not it!
Another thrilling yet peaceful adventurous activity you can perform in the jungles of Nepal is nature walk/bird watching. The Koshi Tappu Wildlife Reserve offers an amazing bird watching tour to view migratory birds, especially in the winter. Thousands of birds gather here in January and February before they migrate north when the warm weather begins.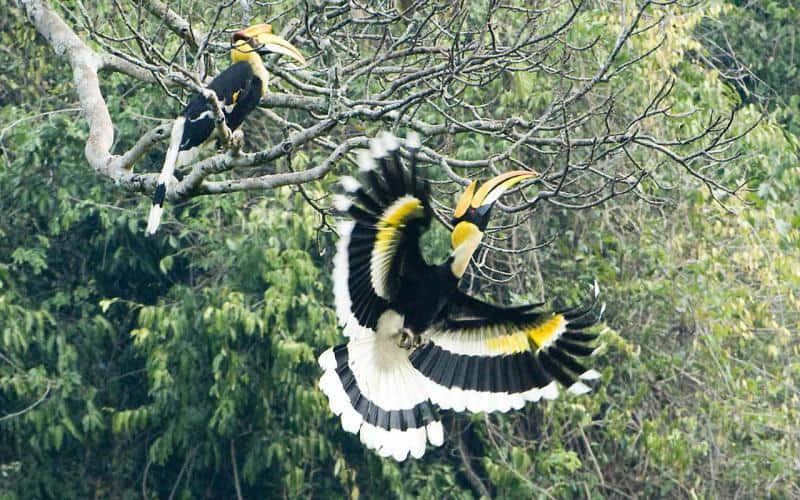 Conclusion
A visit to Nepal fulfills all your jungle safari wishes. It's an opportunity to witness untamed wildlife up close. A thrilling and memorable experience that lasts a lifetime!
Most tourists are fascinated by the diverse wildlife of Nepal. This alone is a reason for them to visit Nepal and explore the jungles of Nepal for rare sightings of flora and fauna. The natural beauty of our eco-system is what drives them to indulge in such adventure activities. 
Himalayan Trekking is here to provide the best services and jungle safari packages to nature-lovers. So, get in touch with us to write a new chapter in your life full of the thrilling experience of Nepal jungle safari.