Visit Nepal 2020 Campaign is actually a long overdue after the success of Visit Nepal Year 1998 and Nepal Tourism Year 2011. Announced in 2015, this campaign was supposed to be held in 2018 but was postponed to 2020 by Ministry of Culture, Tourism and Civil Aviation (MoCTCA).
The devastating earthquake in 2015 affected the inflow of tourists in 2016. As a result, Nepal is still recovering.
The campaign was postponed due to the delay in the restoration of heritage sites, construction of airports and roads.
However, 2017 was when the numbers bounced back with a record of over 940,000 tourists visiting Nepal. Few were here to enjoy the recreational activities and others for supporting affected areas economically.
Nepal Tourism Campaigns Prior Visit Nepal 2020
With the aim of welcoming over half a million tourists in Nepal, in 1996, his Majesty's government declared 1998 as Visit Nepal '98. The slogan for this year was "A sustainable habitat through sustainable tourism". It depicted a visionary theme to promote value-based tourism with an eco-friendly environment.
The success of Visit Nepal 1998 paved the path for Nepal Tourism Year 2011.
Therefore, a huge budget was allocated for the upgradations of airports in parts of Nepal for the 2011 campaign.
The tourism board also ran several Visit Nepal campaigns in various countries; Thailand, Germany, Denmark, Dubai, and the USA.
As a result, the country welcomed over 700,000 visitors from around the world in 2011.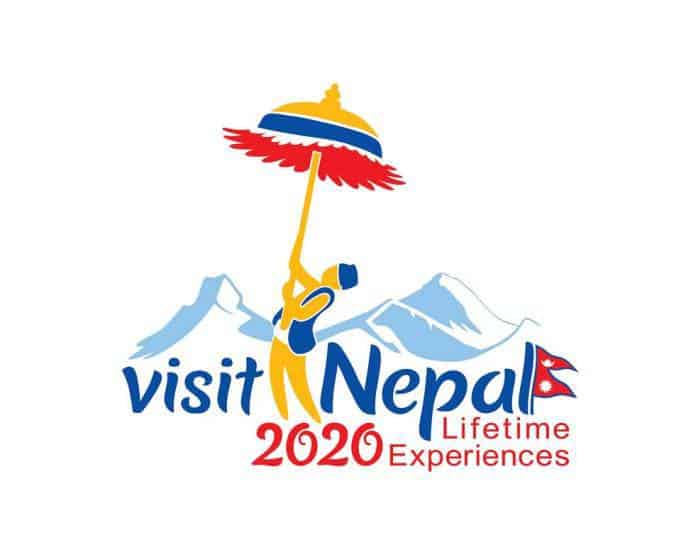 Visit Nepal 2020 logo
Why Visit Nepal?
When it comes to travel, Nepal is undoubtedly one of the best destinations in the world.
Several tourists visit Nepal to witness the natural beauty of Nepal.
Above all, it has amazing landscapes, the tallest mountains including the highest peak in the world – Mt. Everest, lakes, exotic flora and faunas, and so on.
Most tourists show interest in trekking and other recreational activities.
Nepal is also popular for its exotic and influential multicultural aspects.
In addition, the rich and diverse culture in Nepal amazes tourists with its welcoming nature.
Take a look at a few reasons why you should visit Nepal:
UNESCO World Heritage Sites

It's amazing that there are 10 World Heritage Sites in Nepal.
In fact, Kathmandu valley is home to seven of them.
These heritage sites represent the rich culture, ancient history, traditions, variety of flora and fauna found in Nepal.
A complete list of these sites include:
Kathmandu Durbar Square
Boudhanath Stupa
Pashupatinath Temple
Bhaktapur Durbar Square
Changunarayan Temple
Patan Durbar Square
Chitwan National Park
Sagarmatha National Park
Swayambhunath Temple
Lumbini
Trekking and Expeditions in the Mountains
If you are a nature lover who enjoys challenges, then you can't miss expeditions and trekking in Nepal.
Firstly, you can climb the highest peak in the world, Mt. Everest, and secondly, view the natural beauty of the region up close.
Similarly, you can enjoy the view of Nepal peaks like you have never before. Tourists are often fascinated by the lifestyle of locals at such high altitudes.
There are obviously other mountain ranges for you to explore like Annapurna, Ganesh, Manaslu, Machhapuchhre, etc.
Biodiversity of flora and fauna
Nepal is home to many endangered species of birds and animals. With 852 species of birds in Nepal, bird watching has evolved as a popular tourist activity.
In fact, a very rare species of birds, Spiny Babbler is found only in Nepal.
Similarly, if you are lucky enough, you can witness few endangered species of animals such as One Horned Rhinoceros, Royal Bengal Tiger, Red Panda, Bengal Fox, and elusive Snow Leopard.
Festivals and Holidays
You can surely expect Nepal to have a lot of festivals and holidays due to the fact that a diverse group of people resides in Nepal.
Few of these festivals are celebrated nationally while some are limited to certain areas like Kathmandu valley or Terai.
Some examples of these festivals and holidays include Dashain, Tihar, Holi, Lhosar, Buddha Jayanti, and so on.
Adventurous Activities
Visitors often enjoy several indoor and outdoor adventure sports here in Nepal. These sports can help you get your adrenaline rush and moreover, there are plenty of options.
Some popular adventure sports in Nepal include:
Trekking/Mountain Climbing
Zip-lining
Mountain Biking
Hot Air Ballooning
Rafting/Kayaking
Rock Climbing
Bungee Jumping
Objectives of Visit Nepal 2020
The focus of this campaign will mostly be on bouncing back strong after the Earthquake of 2015. The Government has, therefore, allocated a budget for renovation and reconstruction so that tourists will feel safer.
The major aim is to create more job opportunities in the country by flourishing the tourism sector.
The goal, however, is to welcome 2 million tourists in the year 2020 and make this campaign a huge success.
Visit Nepal 2020 slogan "Lifetime Experience" is what the campaign is all about. The construction of roads, airports, and heritages indicates that the government is not leaving a stone unturned.
In fact, the aim is to expand flexibility and accessibility in terms of air and land transportation. This opens up the possibilities to explore undiscovered areas as well. 
Popular tour Packages for Visit Nepal 2020
What to Expect in Visit Nepal 2020?
Honestly, any year is just the perfect year to visit Nepal.
Your time of visit, however, may depend on why you are visiting. With the emphasis on the objectives of Visit Nepal 2020, the government of Nepal is promoting the adventure, lifestyle, luxury and everything Nepal has to offer.
Recently, Nepal Tourism Board (NTB) has launched a Photo Portal, photonepal.travel, as a part of the campaign.
With preparations still going on, you can expect an unmatchable experience from the campaign.
Here are a few things to expect from Visit Nepal 2020:
Unexplored Destinations
Believe it or not, there are several unexplored areas in Nepal.
With all the activities and destinations already existing in Nepal, that's not all for this country of amazing landscapes. Tourists will be able to take a glance at the beautiful unexplored regions like Khaptad and Dolpo. Meanwhile, they can also explore Kathmandu, Everest, Chitwan, Pokhara, Annapurna, and other areas to find new experiences.
We offer a wide variety of packages that features such unexplored destinations to provide tourists with an experience of a lifetime.
Historical Sites Reborn
First and foremost, the restoration and renovation works are in progress. The massive earthquake of 2015 brought devastation in the areas around Kathmandu valley surrounding cultural heritage sites.
Therefore, the Government has been seeking help from China and Japan to speed up the restoration process. These heritage sites are the gifts from our ancestors and carry the great history of Nepal.
With the rebirth of these sites, tourists will be able to witness the rich cultural aspect of Nepal.
Better Infrastructures
The government of Nepal is prioritizing comfort and accessibility for the Visit Nepal 2020 Campaign.
While the reconstruction of Tribhuvan International Airport is in progress, the construction of an international airport in Bhairahawa has already started.
Moreover, the talk for monorails from neighboring countries; India and China, is in the final stage.
Tourists can expect warm hospitality with better infrastructure and services. Sooner, people can expect above 4000 rooms of four and five-star categories in Kathmandu, Pokhara, and Chitwan.
Similarly, with the operation of Marriott, other international hotel chains like Hilton and DoubleTree are expected to operate soon. The expansion of roads, luxurious hotels, and a wide range of internet services, thus, will maximize comfort during your stay in Nepal.
Tailored Packages
The tour and holiday destinations in Nepal are really high in numbers. The competition is going on among travel agencies and businesses for providing suitable packages to the tourists.
Thus, you can expect some exciting packages at affordable rates. These customized packages are sure to include some amazing plans and offers.
Also, several new destinations might be included as well.
Why choose Himalayan Trekking for 2020?
This gorgeous country has a lot more to offer. With over 16 years of experience in trekking and tour, you will be in safe hands. Our expert guides will make sure to brief you properly before starting the journey.
Tailoring packages is not a big deal for us!
Himalayan Trekking makes sure to listen to your needs and tailor suitable packages that fit your holiday and budget. Firstly, we will be highly active during the Visit Nepal campaign. Secondly, we ensure your pleasure and comfort with new and amazing customized packages.
To get more info or to book a trip, you can contact us directly or mail us. If it is convenient, you can also visit our office located at Kathmandu.
So, do visit Nepal this 2020 and we'll make sure that your vacation does not go to waste.